Mention the word CLUTTER, and people start to get a bit uneasy, avoid eye contact and act like they are suddenly hard of hearing.
Yup,…. cluuuuuuuuttter! Clutter, clutter, clutter… Are you still with me? If you are reading this far, it means I haven't lost you yet, which is a good thing because there is a chance to win a FREE SIGNED copy of the book below.
Everyone harbors at the very least, a little bit of clutter. It could be a single junk drawer or a stack of unfiled papers on your desk. It could be much bigger– like a stuffed attic full of things you… can't remember because you haven't been up there in 25 years. Outta sight, outta mind!
In my book, CLEAR: How to Simplify Your Life & Live More Fearlessly, I explain how your environment is a reflection of your inner life. While clutter may just seem like a part of daily living, it is actually a manifestation of chaos within your life. Whoa,… right?
Don't worry, I go into detail on HOW to handle the clutter and design a habitat that supports you to be successful while you live more fearlessly. I also talk a LOT on this blog and my newsletter about all these topics. So, make sure to sign up above for the newsletter.
Jill Jacobs lifestyle coaching Blog
Being in the health & fitness industry, I get to meet a lot of cool ladies doing some awesome things to help people live better lives. Jill Jacobs is one of these ladies. We met on a photo shoot where in a moment of wardrobe malfunction, Jill borrowed a pair of shorts to nail some killer shots. Ladies bonding over fashion, need I say more?
For Jill Jacobs, family and faith are both important to her in addition to living a healthy life and coaching people to do the same. Not only does Jill run a business helping thousands of people, she home-schools her two sons. She has experienced, like many mothers, the reality of dealing with clutter from a family and pets.
So, it was great to see that Jill wrote a fantastic blog on how Clear influenced her. Here is a little teaser from the blog–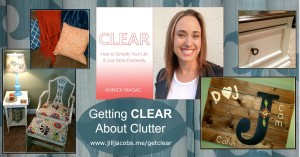 "After Christmas, while packing up all the decor and putting my home back in order, I was inspired to clean up a couple of areas that have been bugging me. About the same time, I began reading Clear.
I don't think that those two things coinciding was an accident at all! Although my process of de-cluttering and beautifying my home had already begun, following the exercises in the book supercharged my motivation and efforts. Since reading the book and I've been on a MISSION!
Annick makes it clear (pun intended) in her book that your physical environment affects your health and well being. You know the terrible feeling when you're house has piles of clutter and needs a good cleaning, right? When my house is like that I feel down, depressed, and frozen. I don't even know where to start. The solution is to just start with one spot! Just do something! Action will beget action!
Once the house is cleaned, smelling great, and full of sparkle, isn't that the BEST feeling in the world!? For me it is, and it motivates me to do more for my home and myself. When my home to-do list is short and manageable, I'm able to tackle other things that often are put on the back burner like self-care.
I still have areas in my home to work on like my going through my clothes, shoes, and recipes, but I'm feeling really great about my progress since starting this process on January 1st." Jill Jacobs
Your Chance To Win A Signed Copy of Clear
Go to Jill Jacobs lifestyle coaching to read the full blog. Jill is also doing a giveaway where you can win a FREE SIGNED copy of Clear! Drawing ends Tuesday, January 27th 2015 at 9pm EST. Do the hustle, get over there and enter to win!!!
Who doesn't love a free book?! Plus,… it is signed by moi.
If you have read the book, let me know what you love/hate about Clear, in the comments below. If you haven't read it yet, let me know why this book is of interest to you.
If you liked this post, please share and sign up for my newsletter above or here!
A bientôt,
Annick