Clear Book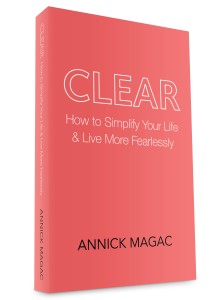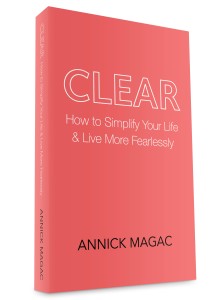 Have you ever struggled to make progress either in your personal or professional lives — or both — but seem to spin your wheels? Have you tried to lose weight, but can't get the scale to move in the direction you want? Have you thought that maybe your environment might prevent you from seeing the success you desire?
When developing a plan or goal to achieve, we often look to the typical tasks designed to make that happen, like eating nutritious food or staying late to finish a work project. However, entrepreneur, health coach and design expert, Annick Magac, knows first-hand that an often overlooked aspect of our lives may contribute to an inability to succeed.
In CLEAR™, Annick explains how the physical environment — from the office cubicle to the home to the car — is a reflection of your inner self. The environment you create around you can either cause your life to become stagnant or propel you toward living fearlessly and surrounded by beauty.
CLEAR™ will transform the way you think about your various habitats and how they may help or hinder your personal and professional success. Using Annick's simple, tried-and-true techniques, you will also learn how to rehab your environment so it reflects and releases your true inner self. When your true inner self is free, you will find that anything is possible.
Are you ready to get CLEAR™?
The Buzz About CLEAR™
"Written in an engaging and straightforward voice, CLEAR™ contains great insight and valuable life lessons. The author gives sound advice based on her real life experiences that most everyone can relate to along with some thought provoking exercises.
I felt Annick Magac's coaching ability shines throughout and makes you realize what you can improve and how to make that change happen in order to be more productive and successful. She takes a simplistic approach and breaks it down into bite size pieces so everything becomes manageable and not overwhelming.
One of the quotes that resonated with me was: "People who believe in themselves and are willing to be fearless don't make excuses. They recognize what they are doing and move to change the action to serve them in a better way."
If you want to get out of your rut and start enjoying life a little more, I highly recommend this book." Judy H. Chicago, IL
"I wasn't born with the superpowers of organization. Routines bore me out of my mind, and details frustrate me to death. My mother's only recourse to contain my mess was to keep my bedroom door shut. However, when I began to live independently in my own space, it became more and more difficult to "just shut the door." I was faced with the realities how clutter negatively impacted my creativity, connection, peace, and joy, and I didn't know what to do. It took me ten years on my own to figure it out.
Annick Magac gave me CLEAR™ as a gift.. After reading it, I wish I had it at the beginning of my journey. It would have shorten my journey dramatically, and I would have experienced creativity, connection, joy, and peace sooner.
CLEAR™ is excitingly different than other books on organization. As I was reading CLEAR™, I saw my former messy self in a new, soothing light as I resonated with Magac's personal stories and client examples. Magac doesn't make you feel "less than" or "not good enough," for not being disorganized, nor does she give you the dead-end solution to " just try harder."
Instead, CLEAR™ helps you change the way you look at yourself and your environment. It will give you a fresh way of looking at how your thinking impacts your environment and how environmental design impacts your thinking.
You will uncover how your physical environment is giving you clues into the thoughts you are thinking daily. These thoughts are what keep you stuck and unable to move forward in your personal and professional life. Once you know your thoughts, you understand what is happening. Once you understand what is happening, you can find the way out and experience what we all want: Creativity. Connection. Joy. Peace. Now, and everyday." Erika Nall, Iowa
"I'm not a big self-help enthusiast myself because I feel like most of the major reads in the category lack a certain authenticity and therefore, if I end up reading them, I labor through them. Magac's work on the other hand blows my mind because it's both honest and entertaining – that's a tough balance when the subject matter is as deep as soul-searching. I don't read as much as I'd like to, so when I get a chance, it'd better be good and this book totally delivers. I'm glad I read it over the first weekend of the year because I feel inspired to make some real positive gains in 2015. Glad I found this treasure, definitely recommend to anyone looking to re-charge." L.E. Morelli Newport Beach, CA
"I bought this book because the title really spoke to me, and it was an inspiration. It got me so excited to go through every room in my house and edit (severely). The author compares clutter in your physical environment to your mental and physical health in such a brilliant way that it makes you feel that you can conquer some of the most daunting projects, starting with easy little steps, and that you will be much better for it.
I find myself looking at everything differently- how many of these do I need? Do I even like this? Why do I still have it? It's amazing how easily this translates from throw pillows into bigger life choices." Lucie P. New York
"This book illustrates how our physical environments are a reflection of how we feel about our lives, our jobs, and ourselves. And it also breaks down – in simple steps – how you can start making changes in your life by making small changes to your home or office. What are you living with that sucks? An uncomfortable office chair? An overstuffed closet you avoid? Why are you holding on to these things? The reasons will surprise you! With compelling stories, examples and exercises, each chapter walks you through the process of addressing these small changes you can make in your environment and how that can lead to getting unstuck in other areas of your life." Kerry M. New York
"This is the perfect book to start the new year with. It's full of helpful insights and suggestions for concrete actions that helped me in getting organized. It inspired me to take those first few small steps towards getting my house (and life) in order." C.P. New York
"Loved your book! Thanks for writing it. I laughed a few times, as well. Every chapter had me thinking "OMG", that's Suzie (my sister) or Mom or me or different friends that I know and how I see them. It is funny, insightful, visual, helpful and my favorite aspect is the call to awareness. Great work. Something for everyone!" L.R. Manhattan Beach, CA